QC2030 Leaders Take Lessons from Des Moines Partnership
Posted April 13, 2017 by the Quad-City Times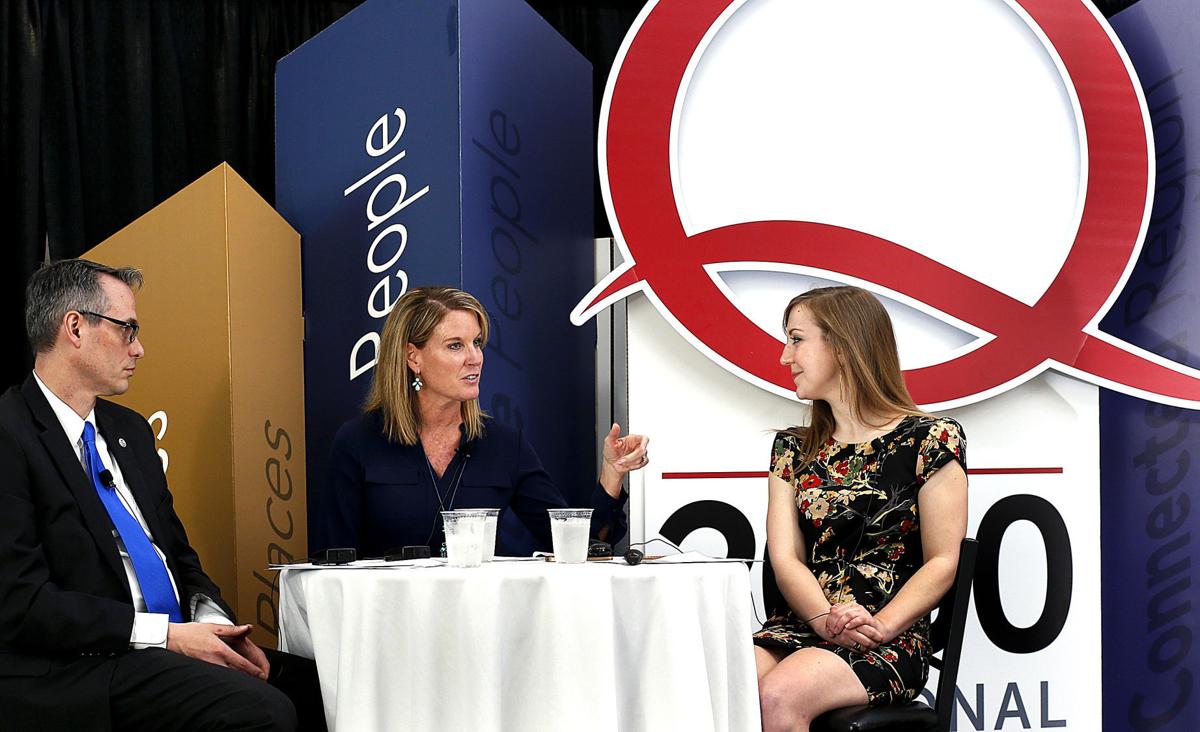 The Greater Des Moines area has strengthened and advanced as a region because of collaboration, leadership, connectivity and a little risk taking.
That was the message Thursday as leaders with the Greater Des Moines Partnership shared the best practices of central Iowa's vision plan, Capital Crossroads. Listening to their processes, accomplishments and a few pitfalls was a crowd of 120 Quad-City business and community leaders with the Quad-Cities' Regional Action Plan, Q2030.
"Many voiced issues that there was a disconnect, or missed opportunities, in the (Des Moines) corridor to Ames," Kristi Knous, president of the Community Foundation of Greater Des Moines, said recalling the early days for crowd at the iWireless Center in Moline.
"We wanted a true vision for the region," said Jay Byers, CEO of the Greater Des Moines Partnership. "We looked at the Cedar Rapids-Iowa City corridor and saw they were doing a lot better job in terms of connectivity. If we could solve that, even if that was our only win, we'd be successful."
But the vision has succeeded on many fronts, the speakers said.
According to Knous, their vision centers around 10 Capitals — priority areas now led by their own steering committees. They focus on the community's core, business, wellness, human capital, physical capital, social capital, culture, governance and natural capital.
She admitted some of the strategic plans and programs had begun previously and might have happened on their own. "But we had never all talked about these wonderful things under one umbrella."
The vision's early successes have covered the gamut with new activities, programs and investments across all The Capitals. Among them: the Cultivation Corridor, a global center for agriculture technology; the new Agriculture Clean Water Alliance; and a uniform fire and building code across the region. The new Education Drives Our Greater Economy, or EDGE, has launched an initiative aimed at getting 75 percent of the region's adults to earn a form of advanced certification or training beyond high school by the year 2025.
After the presentation, Rene Gellerman, the Quad-City Chamber's senior vice president and lead staff on Q2030, said the discussion validated much of the early work by Q2030. "Des Moines has demonstrated what can happen if you have a shared agenda, a long view, strong leadership and work together."
Attendees quizzed the presenters about the funding, metrics for measuring success and how to ensure diversity among stakeholders.
"Our biggest win is an expectation in Central Iowa to collaborate," Wilcoxon said, adding that planning for any new strategy or project now first begins with identifying the partners. "Regionalism and collaboration: That is how we do business in Central Iowa now."